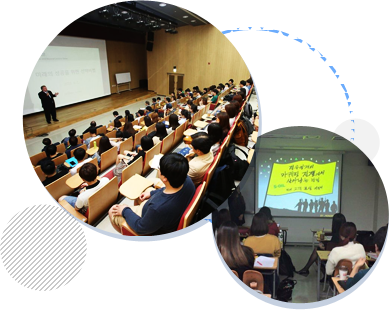 This department aims to foster talents in possession of both English skills and a sense of international management, which can flourish in an increasingly competitive environment.
To achieve this goal, students learn the overall knowledge of business administration and then go through further training with detailed courses. Through this process, students are able to learn the theories of management and their application in the real world, becoming globalized people of talent with a sense of balance between theory and its practice. At the same time, students will develop a good sense of values, and understand management issues from an international perspective, until they mature enough of their personality with the knowledge required for global managers in ethical corporate spirit.
The <Training Objectives>of the Global Management Track are summarized as follows:
01

Cultivating competitive management personnel, imbued with a sense of global citizenship and global vision.

02

Developing an effective decision-making ability to solve problems by analyzing and utilizing management data with a deep understanding of his/her specialization

03

Training for ethical management, through collaborating and communicating with others, and performing social responsibilities.

04

Cultivating the effective communication skills that are required for generating results in a global administrative environment.